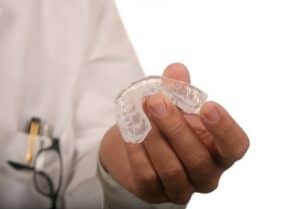 Having a nighttime mouth guard might seem like something that is unpleasant, but there are numerous reasons why this might be something for you to consider. If you speak with our dentists and they recommend a mouthguard, but you're unsure why, ask!

We are more than happy to answer any questions you might have, especially about your treatment plan. However, if you're wondering why mouthguards are a good idea, here are some reasons!


Nighttime Mouthguards are Great for a Number of Reasons
Not only do these mouthguards help you have the best-looking teeth, but they make sure that when you sleep, you're not grinding them down, breaking or chipping them or clenching them together. It is a barrier that provides protection when it is needed most. A lot of times, damage that is done to teeth happens during the night when the person is not aware of what they are doing.

When you have a mouthguard in, you are protecting your teeth which means when you do attempt to subconsciously clench or grind your teeth, the mouthguard prevents the teeth from enduring this type of damage. While clenching your teeth, it puts intense pressure on your teeth, as well as your jawbone itself. It could lead to cracked teeth, bite misalignments or, in extreme cases, factures or other damage to the jaw.

Think you need a nighttime mouth guard or want to know if one is right for you? Give our office a call today to learn more about these easy to use oral mouth guards and how it might be able to help you, especially if you are starting to notice a sore jaw in the morning or find that you have cracked or chipped a tooth.