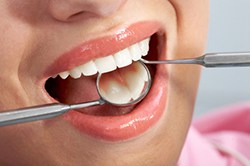 Do you come in every six months for an exam like clockwork? That is great! We love helping people who are proactive about their oral health. The more you do to take care of your mouth, the healthier it is. Now, does that relate to how often you come in?

For some people, coming in and getting a cleaning more often than every six months is ideal and something we recommend. However, for most of us, every six months is the perfect timespan for a healthy smile.

Times Where More Visits Could Be Helpful
Typically, the only time we recommend that you come in more often is if you are dealing with some type of chronic illness. This can include getting treatment for gum disease, or even ailments outside the mouth, like diabetes. In these cases, your teeth need extra care, as do your gums. They need to have help to stay healthy, and the only way to do that is to have you come in a bit more often. For these types of cases, we usually change your appointments to every 3-4 months instead of every six.

Having a chronic illness can leave you struggling with the overall health of your mouth. Even a chronic ailment like arthritis can damage your oral health, especially if the toothbrush becomes painful to hold. Contact our office if you struggle to keep up with your oral health and let us know what we can do to help.

If you aren't sure, then let us suggest a few options that could make taking care of your teeth a bit easier. For those of us who do not have a chronic illness or specific recommendation for more visits, then make sure you stick with coming to see us every six months like you have been.