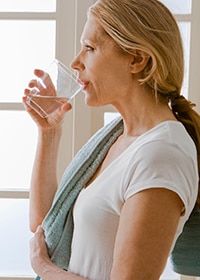 In those situations where you have traveled away from home, it might be difficult to do some things that come as easy as a routine at home. One of those is tooth cleanliness.

Granted, you might not have the luxury of your toothbrush or toothpaste as you would at home, but there are several discreet ways through which one might clean their teeth away from home. Here are a few effective ways;


Water
This is the simplest and quickest way for those days when you have forgotten your toothbrush when going on a trip. Take a sip, and swirl the water around your mouth. This loosens up any surface dirt that might still be remaining on the tooth. Spitting out this water gets rid of the dirt.


Cheese
Most commentaries mention snacking on fruits, especially in the morning. However, eating sugary foods might not be such a good idea. Bacteria thrives on these sugars, turning them into acid that can very easily weaken the enamel and eventually lead to cavities.

Fatty foods, on the other hand, are not as harmful as sugars. Go instead for such foods as cheese or nuts. Cheese is an especially good option as it has been proven to increase saliva output, which further helps in the cleaning process.


Washcloth
This can also be done using a paper-towel. Wrap the paper towel around your index finger and dampen it. With the dampened part, brush your teeth as you would if you had a toothbrush.

It is advisable to begin the cleaning motion from the gums and work your way downwards, with focus on every individual tooth through circular motions.

Being away from home and forgetting your toothbrush does not necessarily have to spell doom for your dental hygiene. Remember, though, that these are no substitute for the real deal.

If you have any questions or would like to schedule an appointment, please call us at (503) 765-7300 today.